Since its inception as a microblogging service in 2006, Twitter has grown exponentially, both in terms of user base, features and applications. Not only is Twitter being used to exchange short messages of 140 characters or less, people are also using Twitter to mine data, to campaign for causes, to spot trends, and to do live searches.
While majority of Twitter users use the Web interface, this can be quite limited. Because by design, the Twitter interface is meant to be simple and straightforward. Fortunately, the creators of Twitter opened up their Application Programming Interface (API) so that third-party developers could build software that uses Twitter's data for various purposes.
Because of the API, there are a handful of desktop and mobile-based clients that have grown to be popular. Twitter, after all, was designed from ground up to be an anywhere, anytime application (evidenced by the use of SMS), and these tools and applications even enhance Twitter's inherent powers, so to speak. Here are 7 of those popular and useful Twitter tools.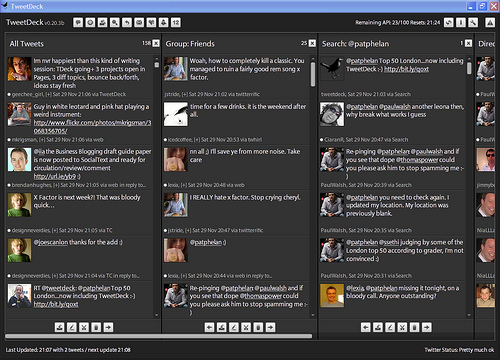 TweetDeck is an application that runs on the Adobe Air platform, which means it can run on any operating system that supports Adobe Air, including Windows, Mac and Linux. This application is popular because of the various ways it adds upon Twitter's functionality. TweetDeck is best known for its multi-column approach to tweets. Instead of just a single feed of tweets, as most people would be accustomed to, TweetDeck lets users define columns for different feeds, like replies, direct messages, and even search queries. This lets a user see a bird's eye view of their Twitter feeds, and can be particularly useful when you're watching out for live updates on certain information or trends.
TweetDeck has already released an iPhone version, which gives iPhone users the same multi-column approach to using Twitter, although the "columns" are collapsible, given the small screen real estate.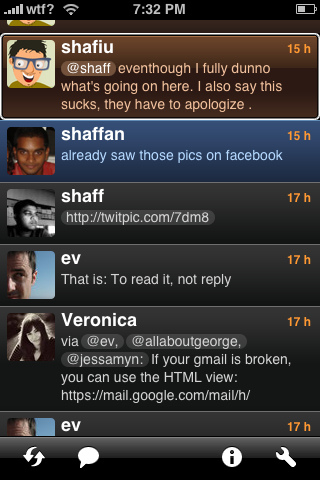 Created by Iconfactory, Twitterrific was one of the first desktop applications for Twitter to rise in popularity. Twitterrific features a simple, easy to configure interface, which blends in well with the Mac OS X interface, and has Growl support for message notification. In every release, Twitterrific added several features, such as replying and direct messaging. Twitterrific now has a client for the iPhone as well, which is preferred by users who like the simple interface, as opposed to TweetDeck's full-featured, but somewhat complicated interface.
Twitterrific was initially released free, but is now shareware. The free version inserts some ads in between tweets at a given time interval.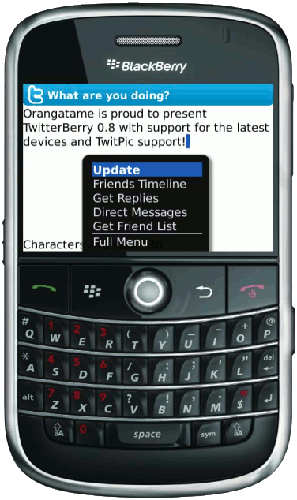 If the BlackBerry was addicting, the creators of TwitterBerry must have thought that combination of Twitter plus BlackBerry would be doubly addicting. TwitterBerry has a simple interface. You are asked to type your response to the famed question "What are you doing right now?" If you'd rather read messages by your friends, the public timeline, replies or direct messages, you can easily scroll through these screens.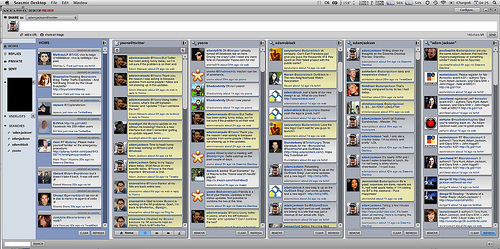 Lauded as a good alternative to TweetDeck, Seesmic Desktop is also a desktop application that runs on the Adobe Air platform. The main feature of Seesmic Desktop was the ability to sign in as multiple Twitter users (a feature that earlier versions of TweetDeck did not have). Seesmic Desktop also features multiple columns, where a user can define searches.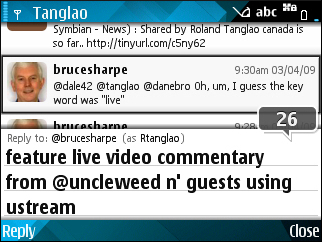 While most desktop applications focus on using a computer's wide screen to display various columns of tweets, Gravity focuses on shrinking this interface to fit a mobile screen. Designed for the Symbian Series 60 (which runs smartphones from Nokia, Samsung and other manufacturers), Gravity provides a native Symbian approach to Twittering, considering that Java-based software were not as elegant in terms of speed and user interface.
The main advantage of Gravity is that it integrates various desktop features into a mobile application. A user can scroll through columns, define different search queries, preview TwitPic images, and the like. The usual message actions are also supported, such as replying, retweeting, and direct messaging. Gravity even lets you upload photos captured from your phone's built in camera directly onto TwitPic or other Twitter-based photo sharing services. Gravity also lets you log into multiple Twitter accounts, which is a plus when you manage several accounts, say one for yourself, another for your company, and another for your family.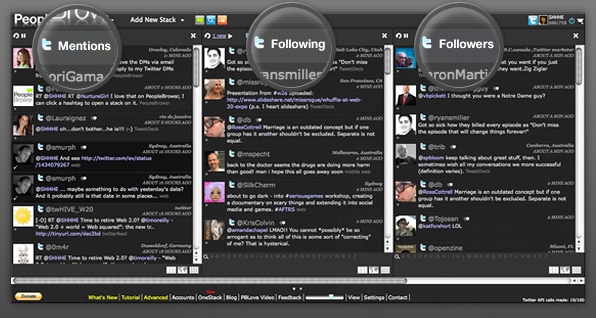 While most Twitter tools we've discussed are based on desktop and mobile platforms, PeopleBrowsr is actually a web application that builds on the Twitter API. The functionality is very much similar to TweetDeck, in that a user can view tweets, searches, replies, and direct messages in a multi-column interface. PeopleBrowsr is actually lauded to be the "TweetDeck killer" because of the many functionalities it adds to Twitter but without the limitation of being a desktop client.
PeopleBrowsr also has unique features on its own, like scheduled tweets, and the ability to merge contacts from various other social networks like Facebook and LinkedIn—hence the name "people browser." The service can be customized depending on a user's needs. The features and interface can be simple for regular users, or full-featured for power users. The service can also provide information on trends, if you intend to use it for business and marketing.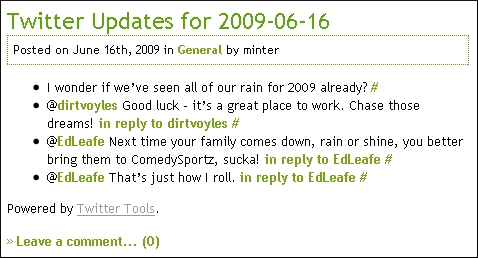 Alex King's Twitter Tools is another piece of software that does not necessarily run on desktop, mobile or even the web. Twitter Tools is a plugin for the popular WordPress blogging application that lets users interface their blogs with Twitter. The plugin gives the user several ways of sharing information between Twitter and their blogs. For instance, the plugin can automatically post an announcement on one's Twitter stream every time a new blog post is published. Or you can publish a summary of your day's tweets on your blog as a single blog post. Twitter Tools can also be used to put up a list of recent tweets on your sidebar.
In all, these are only a handful of third-party tools that build upon the Twitter platform. Some are simple, some are complex. But they all add value. They give Twitter users additional ways to use the service.
This is a guest article by twitQA, a Twitter answer tool. Ask and answer questions on Twitter by logging on to twitQA.com.