The Red Sox keeping tweaking there roster in hopes of adding just enough quality and talent to make a strong push headed into the playoffs. I think they have filled just about every major need and hopefully won't mess things up by adding to many new faces to the clubhouse.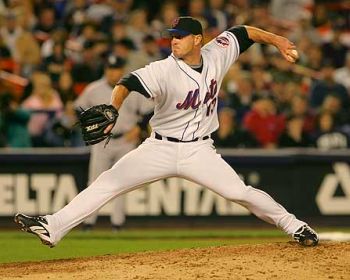 "In the culmination of a deal that was on and off again more often than Mariah Carey changes clothes, Mets reliever Billy Wagner has, in fact, joined the Red Sox for two players to be named later.
The deal was confirmed first by Sports Illustrated's Jon Heyman on his Twitter feed, with the same outlet and source pushing along the story there all day, just hours after Wagner had reportedly rejected the proposed trade because of health concerns and a desire to not be offered arbitration in an offseason bent on landing another job as a closer.
Wagner could be an intriguing addition to the Red Sox, who have used a strong bullpen as one of the team's main supports throughout the season. The longtime Phillies and Mets closer is just coming off Tommy John surgery and has serious health concerns about his own durability. The Boston Globe's Tony Massarotti cited those elbow concerns as the primary reason for Wagner rejecting a Red Sox deal last night, though his concern over his future desirability in free agency -- he's likely to be considered a Type A free agent this offseason -- also weighed heavily into Wagner's considerations. " via Washington Post